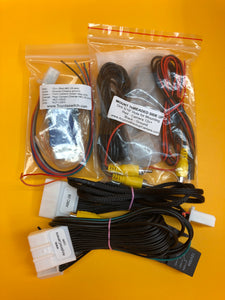 This is a custom Pre-2014 kit.  This kit will require modification to factory wiring.  Please contact us before purchasing to ensure compatibility.
*Please note this kit is intended to work with truck which came from the factory with a rear view camera that displayed in the dash screen.
View your Factory Backup camera at Anytime PLUS add a Front facing camera to view at anytime!
Our Anytime Backup and Front Camera kit allows you to view your rear camera at any time and add a front facing camera. The harnesses will plug directly into the back of your factory in-dash screen with no cutting or modification to the factory wires required! Once the harnesses are plugged in, simply connect the wires from the harness to our factory style switch!

1x - Camera Override Harness
1x - Switching relay
1x - Video pigtails for camera signals
1x - Front facing camera (Premium)
1x - Front/Rear camera switch